S k i r t s  a n d  P a n t s

Necklaces


Necklaces are a beautifull addition to a costume.  They   

add color and personal style.
Earrings


When you pull your hair up while doing a nice shimmy     

you want everyone to see your beautiful sparkly earings.
Armbands


Armbands draw color out to the rest of your arm and      

add a nice touch to many costumes.
Bracelets and Cuffs


Bracelets and cuffs bring color all the way to the ends  of 

the arms and can balance a costume out.  Not to mention

they look pretty.
Anklets


An anklet can add a little color to your feet when they     

peek out from underneath your skirt.  Some can even      

add a nice sound while you dance.
Belly Chains


If you want an extra accent a belly chain can do it.
Hand Pieces


India has come up with some of the best jewelry and       

these braclets for the whole hand are no exception.
Tribal Add-On's


From tassles to charms you can make them a part of your

costume.
Thobes


Thobes are a must have for any dancer.  These dresses   

are used for dances from the gulf area.
Beledi Dresses


No dancer should be without at least one Beledi dress,    

they are so versatile.
Ethnic Dresses


Sometimes it's nice to wear Ethnic dresses. Whether your

lounging around or dancing in them.  Some are very         

beautiful while some are plain.  Which suit's you best?
Caberet Dresses


Beautiful jeweled and beaded dresses cover more skin    

but show every move beautifully.
Crowns


Beautiful jeweled crowns are an absolute must for any     

caberet costume.  You can find instructions how to make

them and see some different styles.
Turbans


Turbans are an essential item for the tribal and folk          

dancer.  You can see some examples of how to wrap  

them and even accesorize them.
Headbands


When a crown or a turban just won't do... a headband    

can be a wonderful alternative.  See headbands from       

caberet to tribal.
Hats and Other Head Coverings


Snoods, Fez's, Tarhas, Hijab, etc...
Skirts


Circle skirts, flounced skirts, gored skirts, panel skirts,    

straight skirts, mermaid skirts, etc...
Pants


Harem pants have many variations and go with anything.
Shirts


Not everyone needs to wear a jeweled or coin bra!  In    

it's place wear a shirt.  Wether you wear a choli,             

Ghawazee shirt, peasant shirt, or a shirt filled with beads  

and/or coins; you can be stunning.
Bras


Beads, Jewels, Coins, Velvet, and anything else that        

looks pretty ends up on a bra.  See some ideas for          

creating one yourself.
Vests


Vests can comliment many types of costumes and can be

a nice way to change it's look.
S h i r t s ,  B r a s ,  a n d  V e s t s

Caberet


Beads, sequins, mirrors, and anything else that sparkles   

under the spotlight is used in these belts.
Tribal


Fringe, tassels, coins... all the findings you can imagine     

can end up on these belts
Rectangular


This is one of the most simple costume pieces to make,   

The tricky part is weighting it; even that can be made       

simple though.
Circular


Circular veils are a little harder to make then a rectangular

veil but are beautiful to use.
Sandals


Sandals are great for outdoor, tribal, or stage dancing (If 

your not the first dancer you may find that beads and       

coins tend to embed themselves in your bare feet.).
Ballet Slippers


For those of us who dont like dancing barefoot but still    

like a lot of freedom of movement with the feet, ballet      

slippers are a good buy.
Chinese Slipers


These shoes are wonderful for Renaissance Festivals,      

they can often be washed, are comfortable enough for     

walking and  dancing in and simple enough not to be "out"

of period".
Aladin Slippers


These are wonderful shoes for male or female dancers     

and can add that "I dream of Jennie" ambiance to your    

ensemble.
Shoes from India


The beautiful shoes that come from India can make a nice

accent to your costume if you don't want to dance           

barefoot.
High Heels


Need an excuse to buy an extra "flashy" pair of heels?     

Here it is!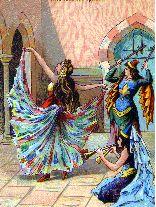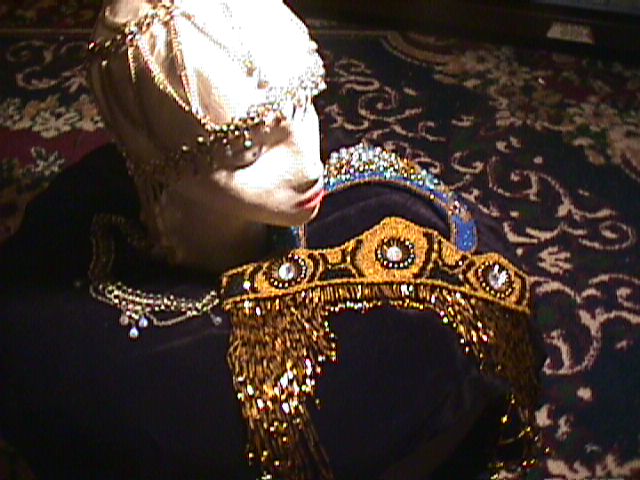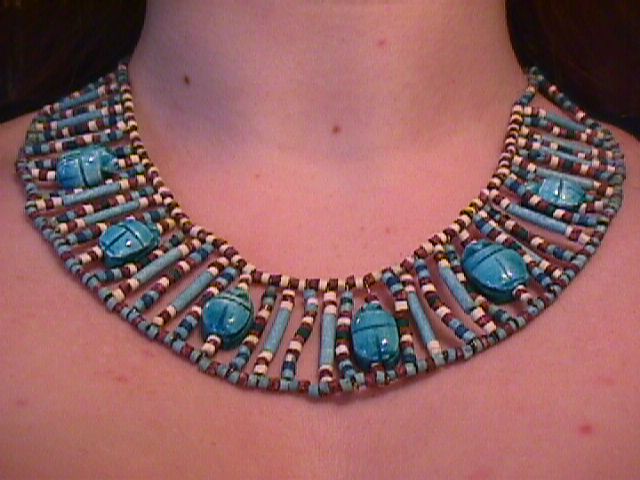 Costumes on this page are not for sale.  This page is to be used as a reference for you to understand costumes for Middle Eastern Dance and Middle Eastern clothing and maybe create your own or at least find a new way to use an existing piece of costuming.